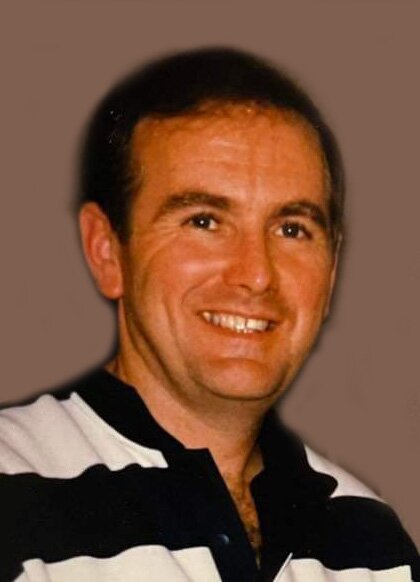 Obituary of Sydney Phillip O'Riley
Please share a memory of Sydney to include in a keepsake book for family and friends.
O'RILEY, Sydney - It is with profound sadness that Mary Gail and Shawn O'Riley announce the passing of their beloved husband, father and poppa, Sydney Phillip O'Riley on Sunday February 5, 2023 at the age of 73 years. Syd passed away peacefully with his beloved wife Gail and son Shawn at his side professing their love for him. Syd was born in 1949 to Francis and Grace O'Riley at Lady Minto Hospital, Chapleau, Ontario with Dr. G.E. Young as the attending physician. After nine years of marriage Francis and Grace were more than elated to welcome their new baby boy. Sister Phyllis was to join him five years later. Syd's parents were outdoor enthusiasts and they took their new baby into the bush camping almost immediately, Syd learned to walk in the bush. His first steps were taken while camping near Seven Mile Rapids, and thus began his life long love of the bush. Syd said he had the most amazing childhood a boy could have. He had wonderful parents, and they instilled a strong work ethic, honesty and respect for others in their children. Summers were spent at the family camp, "The Life O'Riley" at Mulligans Bay, where he and his friends spent their childhood summers, swimming, fishing, boating, building Viking Rafts complete with sails and catapults and building treehouses (a couple of which are still standing today)! Syd said, "every summer I got a brush cut and a new pair of running shoes and I was good to go"! Winter was spent playing hockey both organized and unorganized, (Syd's dad built him a huge rink in the yard every year) snow shoeing, skating and playing in their snow forts. Another favourite winter activity for Syd during his childhood was travelling to Toronto every year to attend the Santa Clause parade. And so life went on until disaster struck their little family when Syd's father died suddenly of complications of a stroke when Syd was twelve years old. The ensuing years were very sad for Syd and Phyllis without the beloved father whom they adored. But five years after his father Francis' passing, Syd's mother Grace, met and married Harvey Martin of Chapleau. Syd and Phyllis loved and welcomed Harvey into their family and Harvey in turn showered them with love and affection. Syd looked to Harvey as a role model and guiding light in his life, a man he strived to emmulate. In his early teens Syd discovered his love of cars and an apptitude for repairing them. He bought, repaired and sold his first car at the age of just fourteen. Using the money from that sale to purchase a little better car, repair that one and then sell it and so on. Syd still had the letter the Government sent his mother wanting to know if her fifteen-year-old son was a used car dealer, as he had bought and sold nineteen cars in one year! As was the custom in Chapleau at the time, as soon as you turned sixteen most boys would go to work for the summer with the CPR or the MNR. Syd started with the CPR during the summer months as a Brakeman/Conductor. After graduating High School he continued working "On the Road" for five years. When gasing up his car at Art Raymond's Service Station, Syd's life was about to take a different turn. Lornie Swanson came out and said, "Art wants to know if you'd like to do an apprenticeship for your Mechanic's Licence"? Syd thought about it for a day and decided he'd go for it. Five years later and with his newly minted Interprovincial Licence for a Class A Automotive Mechanic still in the mail, Syd had the opportunity of taking over the garage. He promptly re-named it Syd's Service Centre and ran it successfully for the next thirty two years. Other businesses were to follow: Tamarac Apartments, O'Riley Fuels, Chapleau Auto Parts, Pineland Country Cottages, Miss Muggins and Pizza Hut/KFC. Syd was proud of the fact that he had brought in the first fast food franchise to Chapleau, in the form of Pizza Hut/KFC. (And the town was ready for it. On the unadvertized opening night, the cars were lined up a quarter of a mile down the road)! Syd met the love of his life Mary Gail Moreau through Gail's cousin and Syd's good friend Gary Simard. They went on their first date March 18, 1971 to a show at the Fox Theatre, were engaged January 14th, 1972 and married August 15, 1972 at Sacred Heart Church. Syd being 23 and Gail being 20. Syd and Gail celebrated their Fiftieth Anniversary last summer 2022. During their long marriage they welcomed their beloved son Shawn in 1986 and in 2018 were delighted to welcome a grandson Shane Wilder O'Riley, who quickly became the apple of Syd's eye and vice versa. Syd and Gail were successful business people for 35 years. In 2008 retirement beckoned and the last of their businesses, Syd's Service Station was sold. Syd relished retirement and enjoyed it immensely. Spending time at the camp, golfing, travelling, if there was a rainy weekend coming up he'd say, "let's go on a little jaunt, and follow the sun" and so they would. Life was never boring with Syd. Syd was a loyal friend and benefactor to many people. Syd was an amazingly kind and generous husband, father and now grandfather. Syd's motto was Live and Let Live. He got along with everyone. What was his secret? He loved people, he really did. He never said a bad word behind someone's back. He was honest and straightforward. What you saw is what you got. He thought the world of and was proud of the accomplishments of any young person who came into his orbit and had influenced either through family or work. Although Syd had a tremendous work ethic, he also had a great capacity for fun. Friends would say,"When you see that twinkle in Syd's eye, watch out he's up to something"! Syd played hockey with the Friday Knights for many years, where he basically played hockey with many of his childhood friends. He enjoyed golfing in the summer and said he's going to miss the gang. Syd was a longtime member of the Chapleau Oddfellows. He admired all that they stood for. He also enjoyed the Fall week long get togethers with the boys at the camp. He enjoyed the four wheeling in the cool crisp air, and just being out in the bush, as well as the comraderie of a great bunch of longtime friends. Syd leaves behind to mourn him his wife of fifty years Mary Gail, his beloved son Shawn, his beloved grandson Shane Wilder O'Riley, his sister Phyllis and brother-in-law George McLeod. Special to his heart from the time he met them as seven and eight year old little boys, his brothers-in-law Douglas and Shawn Moreau. His Godchildren Jennifer McLeod Lamore, Stephan Brillant, Chantal Gravel and Cameran Plourde. Special to his heart are his best friends Darryl Brunette and Gerald Brunette, and his cousin Gary Simard. He will be remembered by his brother-in law Robert Plourde. He will be remembered by his many beloved nieces and nephews. The family would like to thank Dr. Stephen Saari, Dr. K. Ladac and Dr. Linford for their care of Syd. Friends may visit at the Sacred Heart Church on Thursday February 9, 2023 from 7 to 9 p.m. and on Friday February 10, 2023 from 10:00 a.m. until time of the funeral mass at 11:00 a.m. with Reverend Herve Sauve officiating. A spring interment will take place at Chapleau Municipal Cemetery. Memorial donations made to the Sante Health Services Chapleau Foundation would be greatly appreciated. (Arrangements entrusted to Kerry Funeral Home Ltd., Wawa, 1-800-439-4937). www.kerryfuneralhome.ca
To plant a beautiful memorial tree in memory of Sydney O'Riley, please visit our Tree Store
Share Your Memory of
Sydney
About Us

For over thirty years, along with our predecessors, the Gilmartin and Lynett Families, we have strived to provide the highest quality of service along with fair costs to the families we serve.

Our Location

140 Churchill Ave
Wawa, Ontario P0S 1K0
Phone: (705) 856-7340 or 1-800-439-4937
Quick Links

---