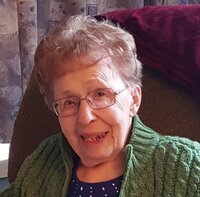 Rolande Celina Godbout
GODBOUT, Rolande (nee Bernard) - Passed away peacefully with her family at her bedside at the Bignucolo Residence on Tuesday February 8th, 2022 at the age of 94 years and 5 months.
Cherished daughter of the late Marie-Louise Thibault and Alfred Bernard. Beloved wife of the late Léo Godbout. Loving mother of Lorraine, Hélène (Ghislain), Daniel and Denis (Debbie). Proud grandmother of Julien. Dear sister of the late Patrice (late Marie-Ange), Jean-Roch (late Linda), Jacques (Marina), Ghislain (Marielle) and Claude (Lise). Rolande will be remembered by her many nieces, nephews and friends.
A heart-felt thank-you to the hospital staff for the care given to our mother. A special thank-you to her physician Dr. Stephen Saari.
A visitation will be held at Sacred Heart Church on Saturday, February 12th, 2022 from 10:00 a.m. until time of the funeral mass at 11:00 a.m. with Reverend Herve Sauvé officiating. (As per COVID 19 restrictions, masks are mandatory inside the church as well as social distancing). A memorial mass will be held in the spring of 2022. In lieu of flowers, donations made to the Heart and Stroke Foundation or to Sacred Heart Church would be appreciated.
(Arrangements entrusted to the Kerry Funeral Home, Wawa, 1-800-439-4937). www.kerryfuneralhome.ca
GODBOUT, Rolande (née Bernard) - Est décédée paisiblement avec sa famille à son chevet à la résidence Bignucolo le mardi 8 février 2022 à l'âge de 94 ans et 5 mois.
Fille chérie de feu Marie-Louise Thibault et Alfred Bernard. Épouse bien-aimée de feu Léo Godbout. Mère aimante de Lorraine, Hélène (Ghislain), Daniel et Denis (Debbie). Fière grand-mère de Julien. Chère sœur de feu Patrice (feu Marie-Ange), Jean-Roch (feu Linda), Jacques (Marina), Ghislain (Marielle) et Claude (Lise). Rolande laisse un souvenir impérissable à ses nombreux neveux, nièces et amis.
Un merci du fond du cœur au personnel de l'hôpital pour les soins prodigués à notre mère. Un remerciement spécial à son médecin, le Dr Stephen Saari.
Une visite aura lieu à l'église du Sacré-Cœur le samedi 12 février 2022 de 10 h jusqu'à l'heure de la messe des funérailles à 11 h, sous la présidence du révérend Hervé Sauvé. (Conformément aux restrictions du COVID 19, les masques sont obligatoires à l'intérieur de l'église ainsi que la distanciation sociale). Une messe commémorative aura lieu au printemps 2022. Au lieu de fleurs, des dons faits à la Fondation des maladies du cœur ou à l'église Sacred Heart seraient appréciés.
(Les arrangements ont été confiés au Kerry Funeral Home, Wawa, 1-800-439-4937). www.kerryfuneralhome.ca